Leadership Qualities
As a result of our innovation, hard work and customer satisfaction we have established a valuable trust and respect in the marketplace. This is not only within the film industry in Madras, Hyderabad, Bangalore and Mumbai but with the authorities, location owners and the general public in New Zealand. As a result a number of producers, directors and lead actors have shot here more than once and are contemplating further shoots. This was revealed at the recently organized film evening in Hyderabad. The New Zealand Trade Commission organized this.
Ninety-nine percent of Indian film shoots in New Zealand are done out doors and therefore, we have to depend on the weather. A location that can look fabulous and most appealing on a bright clear sunny day could become the opposite with shadow from a slight cloud cover. This can be said about our lakes as well as landscapes.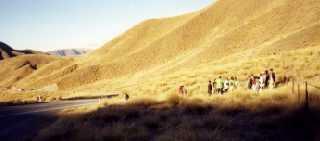 Above and Right: On location at Lindis Pass (South Island). A slight shadow alters the same location. Photos taken at different times of the day.
Most of the regional productions are comparatively small budget films. As a result a number of them are unable to send location scouts to seek out locations. Most film crews would travel together trusting that we would be able to find suitable locations. In a number of cases the shoot begins a couple of hours after their arrival. Being of Indian origin and able to speak the major Indian Language we have been watching Indian films all our lives. Thus we have a very good knowledge of the types of locations that may be required for particular types of scenes and musical sequences.
We, therefore, have to be prepared with all required locations within a very short range of time to begin the shoot. As most shoots are outdoors and thus dependent on weather our managers have to be fully conversant with the changes to locations, which can be brought about with the changing climate. As said earlier, locations can look very different with the slightest change in weather.
Therefore, it becomes imperative that schedules have to be worked out to eliminate backtracking and being at the right place at the right time in order to complete the shoot efficiently and economically. This is the only way to complete a successful shoot, which makes us efficient thus ensuring continuing business. It is also important to see that the Production Companies as well as the location owners are happy with the work done and payments made. Our managers work long hours and are on sight at all times, in case the director wishes to make changes to suit the locations. This happens quite often, as in many cases they have not seen the locations previously.
Our managers are trained to be alert, efficient, friendly, and caring in our work. Work done efficiently and cost effectively makes our clients happy and their good words about us has ensured continuing business.
Consequent, to the above, all enquires regarding Indian film shoots have been referred to us by Film New Zealand, New Zealand Trade Development Board, as well as Production Companies, Cameramen, Directors and lead actors who have been to New Zealand.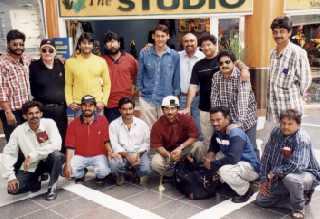 Left: Members of another happy crew departing from Christchurch International Airport to return four months later for their third shoot.