A little about who we are.
KURAN (NZ) Limited is a family business. The name KURAN is derived from the use of the first initials of the five members of the family, namely Kamal, Uma, Raajew, Atima and Nandini thus K U R A N.
Our aim
KURAN (NZ) Limited is committed to providing the highest standard of service to all our clients in order to get repeat business which will give us credibility and thus provide a steady flow of film shoots. This in turn will expose New Zealand not only as a film destination but also an attractive tourist destination.
Beginnings to now
KURAN Traders, a family business, was founded in 1990. As a result of growth in business the name was changed to KURAN (NZ) Limited in 1999. We were in search of a new and unique business. After a long search it was decided that attracting film shoots from India to New Zealand could be viable. In that, as a result of exposure given to New Zealand on the Indian screen we could attract Indian tourists and thus tap into the Indian tourist market. At the time there was no one contemplating this business and New Zealand was unknown to the Indian tourist market. However, the proposition was a gamble and there was no help available in this field.
Towards the end of 1994 we established the first meaningful contact and hosted a visit from a Producer/Director from Bombay. After visiting locations around New Zealand it was decided that the forthcoming feature film of S. K. Productions would be shot at locations in the South Island. The forty-three-member crew filmed for forty-nine days covering locations in Queenstown, Lake Wanaka, Fairlie, Geraldine, Christchurch and Punakaiki.
After this, there was no response for the next eighteen months. We did not give up hope and in September 1996 another production company agreed to shoot part of their production in and around Queenstown. The next was in February 1997. And there were four films shot in the South Island in the last quarter of 1997. Fourteen shoots were conducted in the 1999-2000 year. After that it has been word of mouth and the trend is continuing.
Presently, the primary business of KURAN (NZ) Limited is to organize feature films, commercials and still photography shoots from India.
With continued diligence and professional organization we have gained the confidence of the Indian film industry as well as the New Zealand Trade Development Board in India hence have a number of projects in the pipeline.
The ability to provide new locations for every film shoot has secured us repeat business. We have already organized a number of advertisement shoots. We market New Zealand not only as a competitive location, but a new place, where the advertisement makers can visit and relax.
However, organizing film and advert shoots takes up all our time thus enquires regarding tour groups have been referred to inbound tour operators. Our initial aim to promote New Zealand through films is still a top priority and we are pleased that our aim is being fulfilled. The number of Indian tourists visiting New Zealand has markedly increased in the past years and all indications are that the numbers will keep the upward trend in future.
During his visit to India in early May 2000, our managing partner, Kamal Singh, accompanied Mr. Peter Healy, Trade Commissioner to see ruins of a historic fort in Hyderabad. At the base of the ruins they met three young boys (aged about 10years) who asked Mr. Healy if he was from America. Mr. Healy replied that he was from New Zealand. The boys excitedly said that they knew where New Zealand was - that they had seen New Zealand in the movies. This we find most encouraging.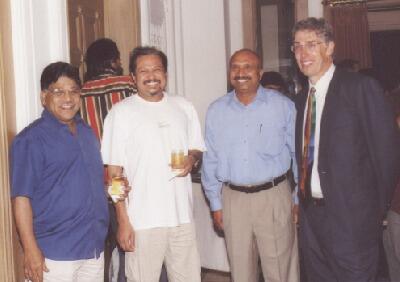 From right: Peter Healey and Kamal Singh with Jayant (director who has been to New Zealand four times) and Allu Arvind (producer who has filmed twice here) seen at the Hyderabad film evening.